Gardall's New Two-Hour Record Safe With the Most
Features in the Industry.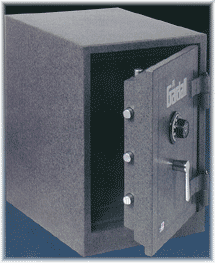 1812/2


The Two Hour Record Safe Series uses the latest in design engineering. This new technology allows Gardall to manufacture The Two Hour Record Safe with fewer parts meaning less welding and more security. Our laser cut manufacturing creates a very repeatable manufacturing process. With this, a greater number parts are interchangeable and the consumer truly gets a better designed product.


---
Thick 4 1/4" door with recessed anti-pry design. Safe walls are 2 1/2" thick
Five active bolts that lock in 3 directions, massive 1" diameter round bolts that extend deep into the safe's body
Center bolt down hole with hardware included for easy installation
Bolt detent, allowing all bolts to remain retracted until closed, preventing bolt scars on the body as well as damage to the boltwork (models 1812-3018)
Plush carpeted quality interior to protect jewelry and valuables
UL listed Group II high security lock, mechanical or electronic are available
2-hour fire label, furnace-tested to 1,850 degrees, safe's interior temperature was less than 350 degrees
Solid chrome-plated handle with shear point to prevent the safe from being forced open by handle attack
Independent re-locker and hardplate to prevent drilling attack on locking mechanism
Lifetime replacement guarantee




Optional Features:

Key locking dial
Gold trim with rich color exteriors (Black, Burgundy, Hunter Green)
---
Model
Inside Dimensions
Outside Dimensions
Cubic
Inches
Shipping.
Weight
(lb.)
Retail
List
Price
H
W
D
H
W
D
1411/2
14"

11"

11"

21"

16 1/4 "

18 3/4"

1693

230
$555
1612/2
16"

12"

12"
23"

17 1/4 "

19 3/4 "

2304

275
$615
1812/2
18"

12"

12"

25"

17 1/4 "

19 3/4 "

2592

305
$695
1818/2
18"

12"

18"

25"

17 1/4 "

25 3/4 "

3888

360
$795
171718/2
18"

18"

18"

25"

23 1/4 "

25 3/4 "

5832

475
$1095
2018/2
20"

18"

18"

27"

23 1/4 "

25 3/4 "

6480

525
$1295
3018/2
30"

18"

18"

37 1/4 "

23 1/4 "

25 3/4 "

9720

620
$1595
1-800-722-7233