Your Best Protection Against Robbery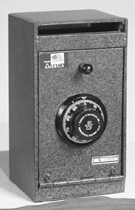 TC1206
Designed so that deposits can be made into safe while door is locked. Exclusive baffle design prevents contents from being removed through openeing. Has independent relocking syste,, hard plate, "B" rated construction and U.L. Listed locks. Perfect for trucks, taxis, under counter or church collection boxes.
---
Small Depository Safes
---
Square lift out door.
Group II U.L. Listed lock.
3/16" Electronically welded body.
1/2" "B" rated door.
Dust cover for concealing safe.
Ship via U.P.S.
3/8" x 4 1/2" baffled slot.
Model
Outside Dimensions
Inside Dimensions
Inside
Cubic
Inches
Approx.
Weight
(lb.)
Retail List Price
H
W
D
H
W
D
TC1206K
12"
30.5cm
6 1/2"
16.5cm
6"
15.2cm
9 1/2"
24.1cm
6"
15.2cm
5"
12.7cm
285
4.7L
35
16kg
$305.00
TC1206C
12"
30.5cm
6 1/2"
16.5cm
6"
15.2cm
9 1/2"
24.1cm
6"
15.2cm
5"
12.7cm
285
4.7L
35
16kg
$380.00