Security requires both Brains and Brawn and Securitron delivers both with an unmatched lineup of innovative products that are smart and tough.
For the support of access control systems, the Magnalock family combines power, safety and no moving parts reliability. The amazing Touch Sense family of products provides immediate or delayed egress on electrically secured doors by responding to human touch. And the DK family of digital entry systems offers versatile and reliable keypad access control. With a host of accessories and power supplies, you can complete and enhance any installation with Securitron.
Magnalocks
The Electromagnetic Lock System that will outlast your building


Magnalocks are designed to secure any type of door or gate that closes against a fixed stop. Magnalocks consist of an electromagnet which mounts on the fixed frame and a strike plate (armature) which mounts on the moving door or gate. The strike is installed with fasteners that permit it to flex so that when the door closes, it automatically self aligns with the magnet. Magnetic force then takes over, strongly securing the door. Release is achieved by cutting off power to the magnet.
Stainless steel cases, plated ferrous metal surfaces, and a ten foot cable are standard on Securitron magnetic locks. Regularly furnished for outswinging doors, Z brackets are available for use on inswinging doors.
Model 82

Introduced in early 1996 and now shipping, the new Model 82 offers 1800 lbs of holding force for maximum security! And, when combined with the new EASB - Energy Absorbing Sex Bolt, the Model 82 offers exceptional resistance to force. The Senstat option is included and monitors both lock power and armature contact with SPDT dry output. With a UL Listing pending and a five year warranty, the Model 82 is a great choice for your maximum security applications.
Current draw: 320ma@12VDC - 170ma@24VDC
Holding force: 1800 lbs
Dimensions: Body: 12" x 3" x 1-3/4"
Options available: F, G, GF, C
Model 62
The Model 62 offers high security with 1200 lbs of holding force - strength which typically cannot be forced without the aid of special tools. It is recommended for any door needing high security magnetic lock protection, either indoors or outdoors, including gates.
Current draw: 250ma@12VDC - 125ma@24VDC
Holding force: 1200 lbs
Dimensions: Body: 8"Lx3"Wx1-3/4"D - Armature: 6"x2-3/4"x1/2"
Options available: F, G, S, C, L
Model 32
The Model 32 offers a "traffic control" level of security similar to electric strikes and is recommended for those applications where physical assault on the door is not expected. With a lower cost and more compact size, you have several advantages over electric strikes.
Current draw: 300ma@12VDC - 150ma@24VDC
Holding force: 600 lbs
Dimensions: Body: 8"Lx1-3/4"Wx1-1/2"D - Armature: 6-1/4"x1-5/8"x1/2"
Options available: F, S, C
Options Available -
(suffix option to model number)
F - Face mount, for use with a Z bracket on outswinging doors
G - Gate option with an end nipple for conduit connection
S - Senstat - voltage signal that the lock is secure
C - Senstat - contact signal that the lock is secure
L - Interior light indicator

Accessories Available -
Z Brackets - for use with face mount locks on inswinging doors
Full length housings - to provide the ultimate in security
EASB - Energy absorbing sex bolt for exceptional resistance to impact force
---
Access Devices
Securitron manufactures a wide variety of exit buttons and keyswitch panels for security applications. Depending on your security needs, you can choose the models that suit your requirements.
Securitron's DK-26 represents the ultimate in stand-alone single door digital entry. The cast stainless steel weatherproof keypad combines outstanding appearance and tremendous resistance to abuse. Key entries are echoed by a beeper and an LED. After 16 incorrect entries, the unit will shut down for 30 seconds and close a signaling relay to alert security personell (if enabled). Optionally, you can get a spy shield to protect the keypad against prying eyes.
The DK-26 operates a timed 5 amp DPDT relay to switch any type of fail-safe or fail-secure electronic locking device. There's even a doorbell key on the pad which triggers another relay. Codes are easily programmed (26 codes maximum). No battery is necessary since the DK-26 uses EPROM technology to store the codes. Supplied with a 16 foot cable, the stainless steel keypad is also available to retrofit existing DK installations. The DK-26 operates on 12 or 24VAC or DC and rectifies AC current for use with electric locking components. The locking release time is adjustable for up to 90 seconds.
For indoor applications or applications where a narrow keypad is not necessary, the DK-16 Digital Entry System is your choice. It fits in single gang openings and uses the same CPU as the DK-26.
---
Egress Devices
Securitron's original Touch Sense Bar started a revolution in how electro-magnetic locks are unlocked. With no moving parts, the Touch Sense Bar "senses" an attempt to gain egress and unlocks the magnetic lock by dropping power. It senses "human touch" even through clothes or gloves. Now, the Touch Sense Family offers the most versatility for egress from electronically secured doors.

The TSB-3 is an excellent alternative to exit buttons when you must meet the "no special knowledge" egress requirements of local codes. The TSB-3 includes an armored door cord, mounting hardware and is reversible. It is available in aluminum and duranodic finishes for 36", 42" and 48" doors. When used with Securitron's magnetic locks and power supplies, the TSB-3 is UL Listed as part of Securitron's exit control systems.
Power: 12-24V AC or DC
Current draw: 5ma at rest - 25ma active
Relay contact: DPST (NC & NO) 1amp @24V
Door Size: 36, 42 & 48" - may be field cut
Cable: 16 foot cable, 6 conductor x 22ga.
Finishes: Clear anodized (628) or black anodized (335)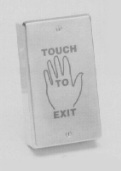 The SP-1 Touch Sense Plate is a touch sensitive wall switch which is a superior alternative to wall mounted mechanical push buttons. Using Securitron's patented "touch" technology, the act of touching the plate trips an electronic sensor that releases the electric lock.
Power: 12-24V AC or DC
Current draw: 5ma at rest - 25ma active
Timer: adjustable - 1 to 25 seconds
Relay contact: DPST 1amp @24V
Size: 5-3/4" x 3-3/8" x 1-1/8" (approx)
Cable: 16 foot cable, 6 conductor x 22ga.
Use: For indoor use only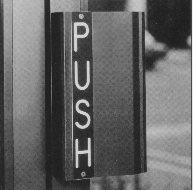 The new TSH - Touch Sense Handle is an ideal choice for inswinging doors. By simply grabbing the handle, the electro-magnetic lock will release to allow for easy egress with no moving parts to wear out. Warranted for five years - UL Pending.
Relay contact: DPST 1amp @24V
Size: 9" x 4-1/2" x 1-1/2" (approx)
Cable: 16 foot cable, 6 conductor x 22ga. - door cord included
Finishes: Clear anodized (628) or black anodized (335)
---
Power Supplies
Securitron's BPS Series power supllies furnish regulated DC power for use with electric and electromagnetic lock systems. They include circuit breakers, a fire alarm interface and a battery charging circuit - all in a hinged steel enclosure. Available with either 12 or 24VDC output, they can be supplied with several amperage ratings.

BPS-12-1 - 12VDC output - 1 amp
BPS-12-3 - 12VDC output - 3 amp
BPS-12-4.5 - 12VDC output - 4.5 amp
Also available with 6, 9 & 15 amp outputs.

BPS-24-1 - 12VDC output - 1 amp BPS-24-2 - 12VDC output - 2 amp BPS-24-3 - 12VDC output - 3 amp Also available with 4, 6 & 10 amp outputs.
---
Accessories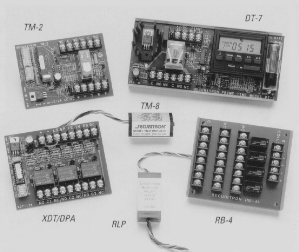 Securitron also manufactures a variety of accessories to complete your security system. Exit delay timers, digital timers, relay boards, and more allow you to offer a wide array of options to a security system. Numerous installation accessories such as header brackets, filler plates and decorative finished covers are available to make your installation easy and more complete. For larger installations, the LCP - Lock Control Panels represent the state of the art in central lock control and monitoring.
For additional information on Securitron products, you may call, write, fax or email us. We would be happy to forward you a copy of the Securitron catalog.
---