Your Best Protection Against Robbery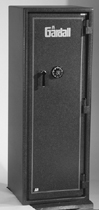 GS6022
KEEP FIREARMS PROTECTED FROM
THE WRONG HANDS
---
Pistol and Gun Safes
---
3/16" steel recessed pry resistant door.
1/8" body, 1/4" steel reinforcing around collar.
4 Active chrome plated round bolts with a 1 1/4" throw behind a 1/4" thick door jamb. Jamb is continuous around body frame.
U.L. approved Group II combination lock or electronic push-button lock.
1,000,000 possible combinations.
Independent relocking device in addition to relocker in lock.
Hard plate in front of lock.
Shear point handle designed to break off flush if forced.
Full length locking bar on hinged side to prevent forced entry.
Reinforced door jambs with 1/4" steel collar.
4 Anchoring holes in base of safe to bolt safe to floor.
Pre-drilled hole in back of safe body to provide electrical access for dehumidifier or a light.
Optional carpeted interiors available.
Model
Outside Dimensions
Inside Dimensions
Approx
Weight
(lbs)
Interior
Retail List Price
H
W
D
H
W
D
GS2522
25"
63.5cm
22"
55.9cm
17¼"
43.8cm
24¾"
62.9cm
21"
53.3cm
13"
33.0cm
175
68.2kg
Empty
$750.00
Carpeted Base
& Adj. Shelf
$820.00
GF2522
25"
63.5cm
22"
55.9cm
17¼"
43.8cm
21"
53.3cm
17¾"
45.1cm
13¼"
33.7cm
220
100kg
Carpeted Base
& Adj. Shelf
$1210.00
GS6022
61"
154.9cm
22"
55.9cm
21½"
54.6cm
60"
152.4cm
21"
53.3cm
17"
43.2cm
360
136.4kg
Empty
$1190.00
13 Gun, 19 Gun
or 4 shelves
$1535.00
GS6030
61"
154.9cm
30"
76.2cm
25 1/2"
64.8cm
60"
154.3cm
29"
73.7cm
21"
53.3cm
500
227.3kg
Empty
$1655.00
16 Gun, 32 Gun
or 4 Shelves
$1975.00
GF6022

61"
154.9cm
22"
55.9cm
21½"
54.6cm
57"
144.8cm
17"
43.2cm
15"
38.1cm
435
197.7kg
Empty
$1655.00
10 Gun, 14 Gun
or 4 shelves
$1975.00
GF6030

61"
154.9cm
30"
76.2cm
25 ½"
64.8cm
57"
144.8cm
25"
63.5cm
18"
45.7cm
725
329.5kg
Empty
$2075.00
12 Gun, 26 Gun
or 4 Shelves
$2275.00